Withdrawal Policy
As part of our commitment to provide truly superior service, Xtrade (the "Company" or "we") will make every effort necessary to ensure that withdrawal requests are processed quickly and efficiently. To protect against fraud, we may also request additional information and proof of your identity before processing your withdrawal request, as detailed below. We utilize industry leading security and encryption technologies available to ensure that transactions and financial information are kept secure.
Withdrawal Process
If you have opened positions, you will not be able to withdraw your entire Available Balance. A minimum amount is needed to maintain a Maintenance Margin.
(Available Balance – Maintenance Margin) and margin >= 1% = Max Withdrawal Amount
Withdrawal requests take up to five business days to process. Delays beyond our control might occur due to third party withdrawal payment methods (i.e. credit card company, the wiring bank or intermediary banks which delay transfers, in extreme cases, of up to 3 weeks).
How do I request a withdrawal?
Log in to your Xtrade account
Click "Withdraw" on the main page
Please enter the amount and submit it by clicking the "withdraw" button
To complete your request, please print a withdrawal form, sign it manually and sent it to withdrawals@xtrade.com or by fax: +44-203-0516306
Once your request is complete, the information is forwarded to us for processing. You will receive an email confirmation of your withdrawal request.
*Please note that your account must be fully verified prior to the withdrawal process. A list of documents required can be found here. In some cases, Company reserves the right to request some additional documents.
**Your withdrawal shall be processed via the same method that the deposit was made. If you deposit via credit card, any withdrawal amounts will be returned to that credit card. Likewise, if a deposit is made via bank transfer, the withdrawals will be transferred back to your bank account. Other deposits made by e-wallet will be returned as a bank transfer or by Skrill/Netteler e-wallet.
***All profits will be returned via bank transfer. (The profit amount less than $150 might be transferred by any other method approved by the Company, subject to regulation).
How do I check status of my withdrawal request?
Click Account Options > Funds Management > Withdrawal requests.





You will see a new pop up window with full details of your withdrawal.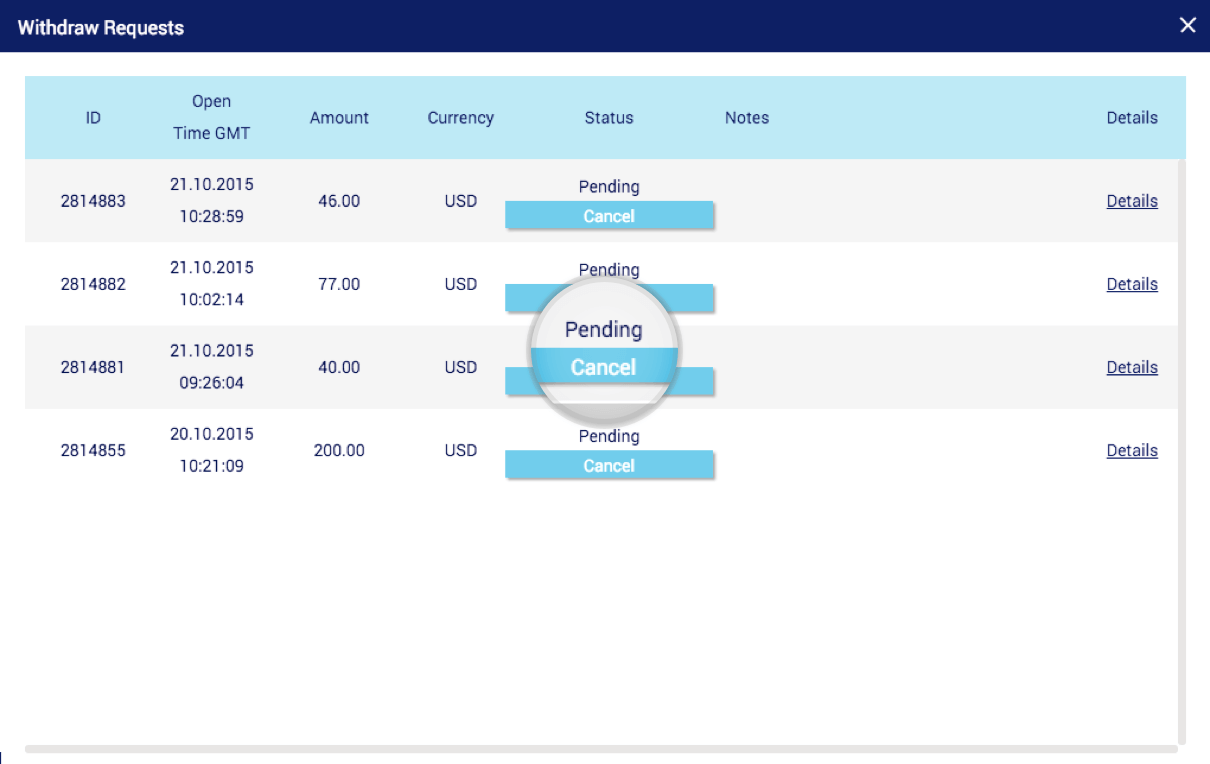 *Please note that you can cancel your request at any time while its status is "pending"
Why a withdrawal was rejected?
Your account is not fully verified.
We did not received a signed withdrawal form.
A withdrawal form is not manually signed, we received only parts of it or it states a date of withdrawal which was already rejected
We were unable to transfer funds to the Bank/e-wallet details provided or we did not receive correct details at all.
Withdrawal fees
Xtrade does not charges any fees for withdrawal processing. The total withdrawal amount will be transferred to your bank account, credit/debit card or e-wallet, however banks and/or intermediaries banks, processor's fees may apply. We do not accept any responsibility for such fees.
Payment Support
Our Client Support team is ready to help you with any questions you may have to make your online trading experience as pleasant and convenient as possible, 24 hours a day, 5 days a week. Please
contact us
with any questions you may have.