Cryptocurrencies are digital currencies available on the blockchain. Currently, thousands of cryptocurrencies are available, including Bitcoin (BTC), Ethereum (ETH), Cardano (ADA), Ripple (XRP), Dogecoin (DOGE), Litecoin (LTC), Stellar (XLM), et al. The cryptocurrency market is heavily dominated by BTC and ETH, which together comprise approximately 65% of the total market cap. Bitcoin is the rock star of digital currencies, with massive brand awareness even among non-adoptees. Ethereum, developed by Vitalik Buterin is an open-source, smart contract blockchain used to create decentralized apps (dapps).

Cryptocurrencies are fully decentralized, and not subject to the rules and regulations of central banks, or established financial authorities. Bitcoin was the first cryptocurrency, developed by an individual, or enigma, known as Satoshi Nakamoto. The Bitcoin White Paper extolled the virtues of anonymous, independent, blockchain-based technology as a value proposition for transactions processing and monetary transfers. As decentralized currencies, crypto users are privy to many benefits, including:
No need for financial intermediaries (middlemen) when processing transactions.
Seamless international transactions processing at a fraction of the cost of traditional money transfer options.
The blockchain ecosystem allows for efficient asset transfers, with third-party approvals at future dates.
Trading strategies and loans a.k.a. financial derivatives can be coded into crypto blockchains, eliminating the need for intermediaries.
The decentralized nature of cryptocurrencies means that only the sender and receiver are involved in the transaction. There is no need for a financial intermediary. This reduces transactions processing time and costs, for greater efficiency of operations.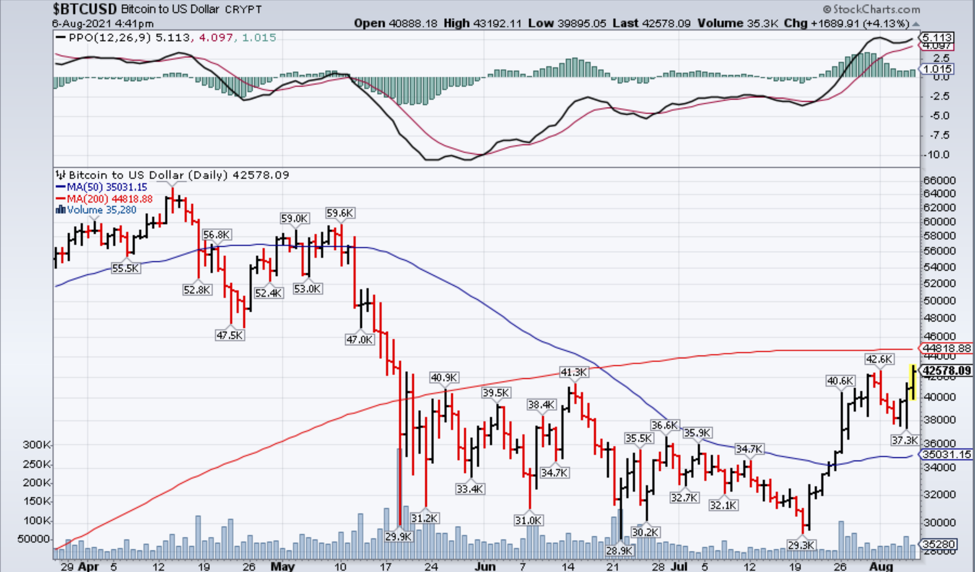 What is Cryptocurrency Trading?
Like forex, cryptocurrency can be traded online at fully licensed and regulated brokers, and exchanges. Crypto can be exchanged for crypto, or traded against fiat currency (fiduciary currency), where prices are quoted in USD, EUR, GBP. Consider the following charts of Bitcoin, and Ethereum as quoted against the US dollar: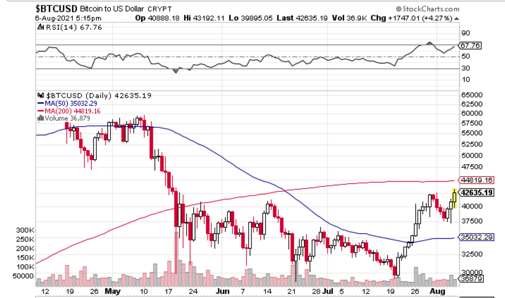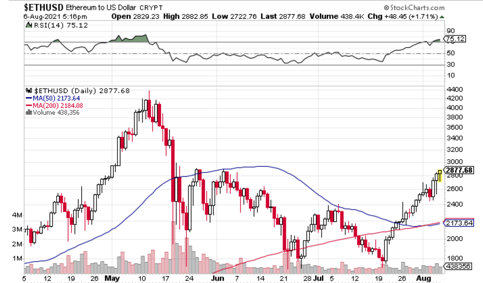 Any underlying financial instrument such as forex, commodities, indices, stocks, bonds, ETFs, and cryptocurrencies can be traded online. Trading is the buying and selling of assets with intent to profit from the transaction. Conventional trading methodology requires you to buy low and sell high, to generate a profit. However, it is entirely possible to short sell financial instruments, including cryptocurrency and profit from the difference between the buy price and the sell price. When trading crypto, it's important to use risk mitigation strategies to safeguard your trades. These include stop loss, limit orders, and market orders, among others.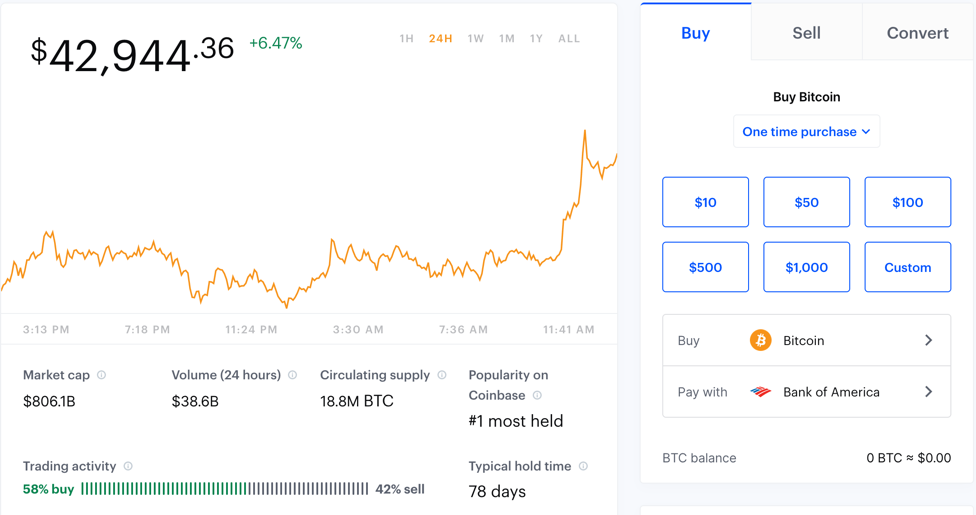 Right off the bat, it's important to point out that cryptocurrency trading is risky. Crypto is a volatile asset which can dramatically rise or fall in price at any given time. There are cryptocurrency traders who prefer to buy and hold, known as HODL crypto as an investment. Those who bought Bitcoin and Ethereum several years ago and held onto them, are in good financial shape today with the current prices of these digital currencies. Traders aren't investors; traders buy and sell to generate profits in the short-term, while investors are in it for the long haul.

The most popular cryptocurrency exchange in the US, Coinbase features the following trading platform, where you can buy crypto or sell crypto according to your requirements.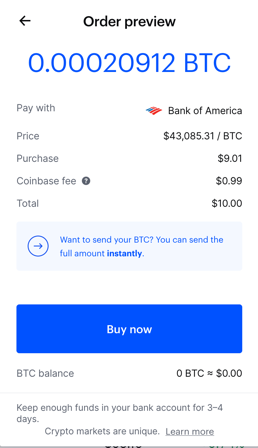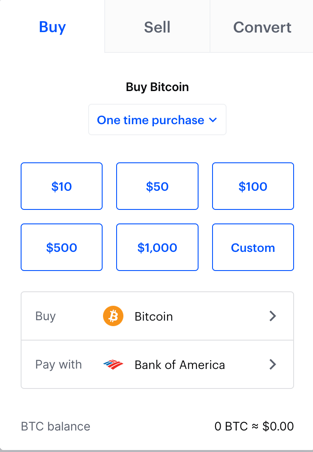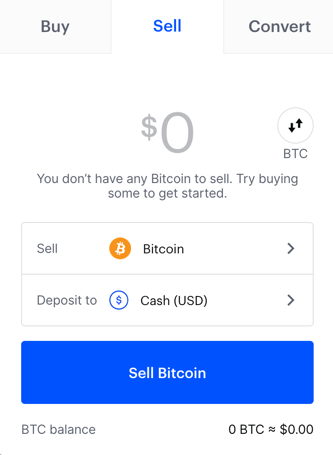 To get started with cryptocurrency trading, you will be required to sign up at a cryptocurrency exchange such as Binance, Bittrex or Coinbase. Next, add funds to your account from your bank or financial institution. Finally, choose from the list of available cryptocurrencies which cryptocurrencies you want to trade. As stated earlier, you can trade cryptocurrency using fiduciary currency i.e. dollars, euros, pounds. Or, you can trade crypto to crypto such as Bitcoin to Bitcoin Gold, or Ethereum to Litecoin, et al. The final resource required for trading crypto is a digital currency wallet otherwise known as a crypto wallet.

It is possible to store your digital currency at the digital currency exchange such as Coinbase, but various hacks over the years (Mt Gox, Bithumb, Coinrail, Coincheck, BitGrail) make this somewhat unappealing to cryptocurrency enthusiasts. You're better off buying an external cryptocurrency wallet such as Ledger Nano to safely store your digital currency codes to block hackers from your digital assets.

Traders come in different shapes and sizes. Some traders prefer indirect crypto trading options such as Square's Cash App, or Grayscale Trust, or The GBTC trust. Investors can also delve into the cryptocurrency scene by way of IRAs, futures, or stocks related to cryptocurrencies. Consider the CME Micro Bitcoin Futures market, designed with risk mitigation elements and capital efficiency.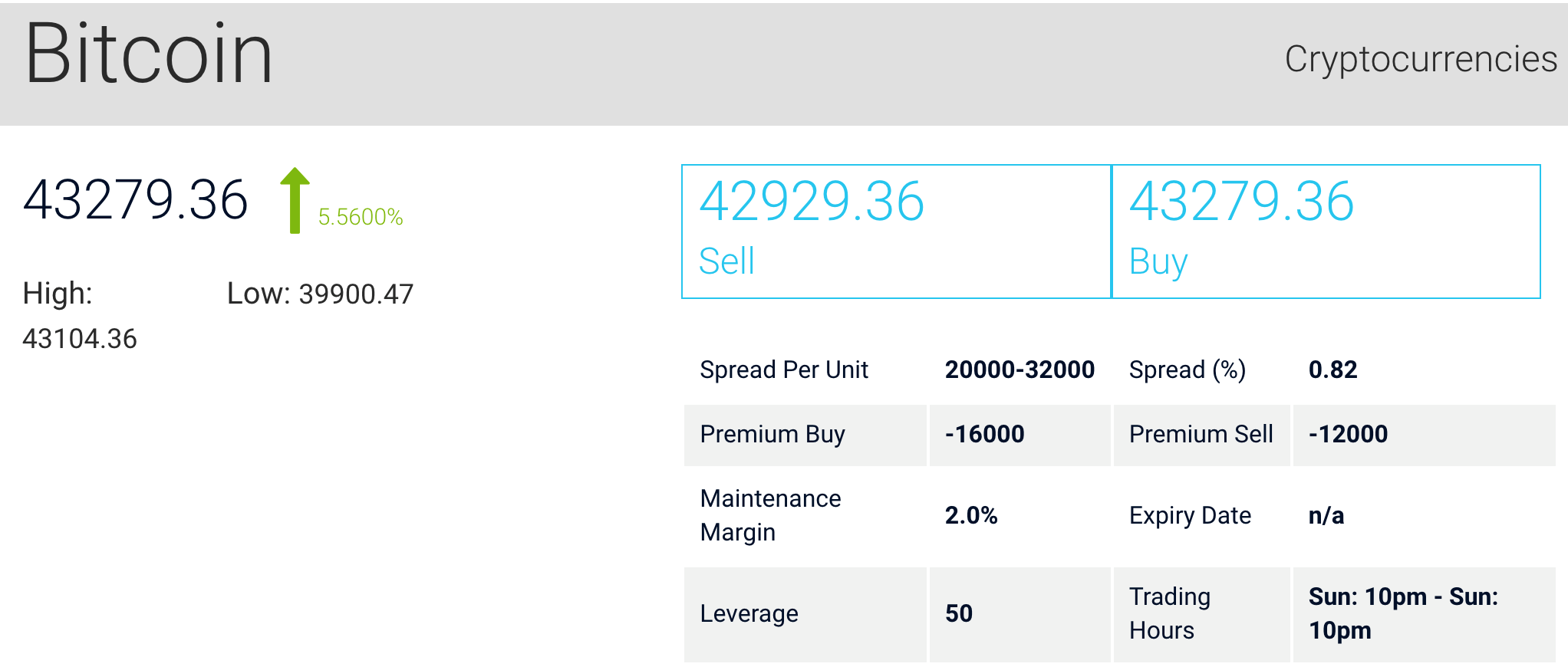 Derivatives trading instruments are increasingly popular among cryptocurrency enthusiasts, with Bitcoin CFDs, Litecoin CFDs, and Ethereum CFDs available through reputable brokers such as eToro, and Xtrade.com. Derivatives are an interesting form of trading, since the trader does not actually own any of the underlying asset – it's simply a contract which mirrors the price movements of the asset in question.

For example, at Xtrade (pictured above) clients can click Buy or Sell with popular digital currencies based upon assessments of the future direction of price. The price of Bitcoin derivatives mirrors the price of Bitcoin cryptocurrency in real time. Naturally, there are certain fees in place, including a maintenance margin, spread percent, and premium sell. Leverage is a powerful tool available to CFD traders allowing you to maximize the trading power of your existing capital by up to 50 times with BTC.

A caveat is in order: Leveraged trades can maximize your gains, but they can also amplify your losses, since traders are liable for the full leveraged amount, not simply the margin requirement.
Brokers that Trade Cryptocurrency
When trading cryptocurrency at brokers and cryptocurrency exchanges, it's important to verify the credibility of the brokers in question. With so many brokers operating in unregulated markets, traders will want to safeguard their investments and their funds by sticking with reputable operators. The following brokers and exchanges that trade cryptocurrency, crypto futures, and digital derivatives come highly recommended by experts:
Xtrade.com
eToro
Coinbase
Bittrex
Robinhood
Kraken
TradeStation
CME Group
TD Ameritrade
Charles Schwab
Interactive Brokers
Be advised that this is a small sampling of the many popular brokers, exchanges, and derivatives trading platforms offering cryptocurrency trading options. When you are ready to choose a broker, it's important to take all of your needs, and preferences into account.

You may be the type of trader who wants to actually own the Bitcoin, Ethereum, or Litecoin being traded. In this case, you won't want to trade derivatives instruments. Rather, you would want to set up an account at a cryptocurrency exchange, with your own cryptocurrency wallet.

For those who are in it expressly for generating a profit, derivatives trading options are ideal. There's no need to worry about the safety and security of the digital assets, since you're simply trading a contract which mirrors the price movements. No actual crypto changes hands, so there's no risk of loss of actual cryptocurrency, however there is always the risk of loss of capital when trading.

Other options include futures, which are much riskier propositions, but often come with a higher reward. The majority of brokers limit your crypto trading options to a handful of popular digital currencies such as BTC, ETH, LTC, XRP, et cetera. However, if you wish to trade beyond the top 10 cryptocurrencies, you will need to register at a cryptocurrency exchange such as Coinbase, or eToro. Be advised that with cryptocurrency trading, there is always the risk of loss of capital.
Online Cryptocurrency Trading and Platforms
Online cryptocurrency trading and platforms vary according to the features and functions offered. Many cryptocurrency trading platforms offer derivatives instruments such as CFDs. These are available with leverage. Leveraged trades come with their own set of opportunities and challenges. When trades finish in the money, you can magnify your profits. However, if trades finish out of the money you can magnify your losses. Trading crypto on margin is extremely risky, given the volatility of the crypto market.

On cryptocurrency exchanges traders buy and sell the actual cryptocurrency, not a derivatives instrument. The Bitcoin, Ethereum, Litecoin, Ripple, or other cryptocurrency is stored at the cryptocurrency exchange in your trader account, or transferred to an online wallet, desktop wallet, mobile wallet, paper wallet, hardware wallet, or mnemonic wallet. Certain cryptocurrency brokers and exchanges may offer bonuses and promotional offers for new clients. For example, Coinbase offers $5 in Bitcoin after registration, and Xtrade offers a unique welcome package with bonuses on your first deposit. These promotional offers can make it quite appealing to trade cryptocurrency online.